A modified dual laminate tank and flangeless piping system proved to be the economical and high performance choice in this monochloroacetic acid storage and flow application.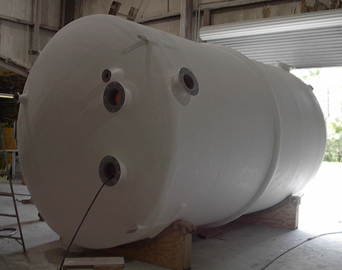 A major European chemical company needed to improve workplace safety and replace process piping and a bulk 316 stainless steel storage tank that, because of chlorine chemical exposure, was failing. Project engineers, working with both corporate designers in Europe and Plastek Werks applications specialists identified two possible construction materials that would provide long term performance. They chose the dual laminate construction over an exotic alloy material because of the cost and background of performance in Europe and the United States.
Plastek Werks provided a 10' diameter X 17' tall, insulated, heated traced, pressure vessel, and process piping for this project. Design and fabrication met ASME RTP- 1 and ASME B31.3 specifications for composite mechanical systems. Plastek Werks crews successfully met the challenge of performing butt welds of liner and fiberglas overlay at heights from 10 feet to 35 feet over head to produce the 90% flangeless piping system.
In a follow up to the project, one engineer wrote, "Plastek Werks provided a professional crew to perform a quality and timely installation, as well as testing. This is the second dual laminate project solution that Plastek Werks has provided our company over the past couple of years."
For more information about Dual Laminate Tanks or any of our other products and services, please call us toll-free at 1.888.675.2783.