Field Service and On-Site Welding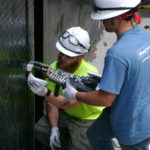 At Plastek Werks, Inc., we know our services are an essential part of our customer's success. That's why we specialize in field service and on-site welding. We make ourselves available to be anywhere we are needed.
Field service and on-site welding is often the best choice for projects that are too large for over the road transportation or projects that are too complex and require final field welding. Our highly skilled field service crews can fabricate virtually any size structure on-site to meet your containment needs.
Our technicians all have passports and are ready to exceed your demands for difficult repair projects. We have years of experience in plastic product repair. If a product can be repaired, Plastek Werks, Inc. is the source for plastic repairs using advanced plastic welding technology.
Our welding technicians have worked throughout world in:
Mexico
Costa Rica
Puerto Rico
Uruguay
Norway
And, of course, the United States
Why are we the best?
Our thermoplastic technicians maintain the highest certifications available in the United States today, working primarily with German DVS and AWS (American Welding Society) standards
Our welding technicians are certified in confined space entry work procedures to allow service for the most critical containment needs
Each of our welding technicians must be certified by the manufacturer for the material being welded
Our technicians are passport-ready and are prepared to work all over the world for on-site service and welding