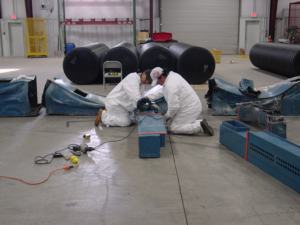 We have the ability to perform welding services and repairs in our well-equipped 33,000 square foot facility or on location according to project needs.
Performing on-site plastic repair can prevent costly shipping charges, downtime charges and/or replacement of a particular plastic vessel, underground pipe or large scale project. We have years of experience in plastic product repair. If a product can be repaired, Plastek Werks, Inc. is the source for your most critical needs.
Emergency Repair Services
Plastek Werks is prepared to quickly respond to your emergency repair needs. Our plastic welding experts perform emergency repair welding for a variety of industries, manufacturers, and contractors. When a failure occurs, we have the qualifications and tools to respond promptly to the circumstances.
Efficient Retrofits
Plastic protective liners, custom tanks, modified molded tanks, trenches, sumps, and piping systems are replacing coatings and corroded metal systems worldwide. We have a history of performing retrofit projects proficiently and according to your schedule to minimize down time. Read about one of our plastic retrofit success stories in our Case History Library – CPL Retrofit.
Why are we the best?
Our thermoplastic technicians maintain the highest certifications available in the United States today, working primarily with German DVS and AWS (American Welding Society) standards
Our welding technicians are certified in confined space entry work procedures to allow service for the most critical containment needs
Each of our welding technicians must be certified by the manufacturer for the material being welded
Our technicians are passport-ready and are prepared to work all over the world for on-site service and welding