Corzan CPVC Reactor Tanks
Custom Fabricated CPVC reactor tanks stand up to chlorine, mercury and vibration for 10+ Years of uninterrupted, leak-free Service.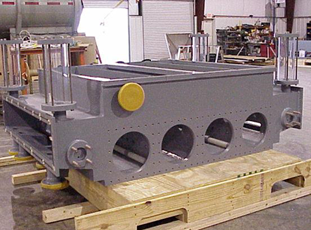 A US company that makes chlorine and caustic soda purchased Corzan chlorinated poly vinyl chloride (CPVC) tanks from Plastek Werks to store five tons of mercury in an environment where vibration and agitation place strict demands on the vessels. Plastek Werks used full penetration welds on the .750", 1.5", and 2.0" sheets to make the world's thickest non-dual laminate plastic fabrication using Corzan. The tank, installed in 2000, is still in service.
Plastek Werks realizes that many shops do not use full penetration welding procedures because it takes more time to produce a weld equal to the full thickness of the parent materials. Buyers of fabricated products who are unfamiliar with plastic welding often fail to recognize the need for full penetration welds. This fusion process is standard operating procedure at Plastek Werks when health, safety, or environmental containment is at stake.
Based on product performance, quality, and on-site service response, this company has hired Plastek Werks for dual laminate piping, tanks, and linings for their extremely hostile chemical environment.
For more information about CPVC Reactor Tanks or any of our other products and services, please call us toll-free at 1.888.675.2783.