Concrete Protective Lining
A 5mm thick HDPE Concrete Protective Liner System Proved to be the long-term solution to rapid corrosion of coated concrete tanks for an international manufacturer of surfactants for 20 Years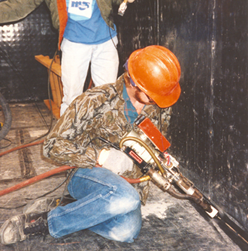 The US Environmental Protection Agency's Resource Conservation Act (RCRA) requires users of hazardous materials to have a well-defined primary and secondary containment system when storing, treating or transporting hazardous materials in the ground.
That is why in 1991, an international manufacturer of surfactants began the search for a better containment method for hazardous chemicals, including sulfuric acid and molten sulfur. The manufacturer stated that they had not been able to find any type of coating material that could withstand exposure to their chemicals and protect the underlying concrete from corrosion. Exposure to these harsh chemicals, direct sunlight, and temperatures ranging from 0°F to 100°F resulted in rapid corrosion of concrete tanks regardless of a variety of coating materials they employed.
In 1992, Plastek Werks installed a 5mm thick HDPE Concrete Protective Lining (CPL) System, which was new technology at that time. The system solved their problem and exceeded their expectations. The lining is still in use today. An annual inspection of this sump, including both visual inspection and holiday (spark) testing, verifies that the liner and all welds are performing exceptionally well. This customer elected to use CPL materials at other facilities around the world and hired Plastek Werks to craft HDPE manholes and piping as well.
For more information about Concrete Protective Lining Systems or any of our other products and services, please visit www.plastekwerks.com or call us toll-free at 1.888.675.2783.