Concrete Protective Lining System Retrofit
Plastek Werks recommended and installed a CPL system to retrofit three failing concrete containment tanks during a routine holiday shutdown for an international aluminum can manufacturer.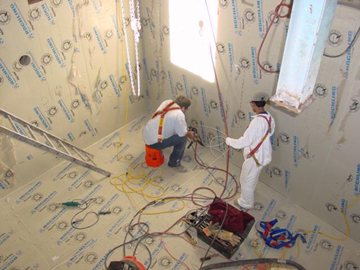 Process chemistry of nitric acid, hydrofluoric acid, sulfuric acid, and caustic solutions destroyed all coatings and aggressively eroded the concrete in three wastewater treatment sumps at this North American plant. All three tanks showed exposed rebar in the walls.
Plastek Werks recommended a polypropylene concrete protective lining (CPL) system to provide primary and secondary linings to solve the problem and to meet EPA mandates. Two crews worked in rotating shifts to completely reline the tanks in only eight days over a Thanksgiving shutdown.
Plastek Werks used an "overpour" method which allows the anchors on the back of the new lining to become mechanically tied into the existing, original structure which is prepped with rebar stubs and reinforcement wire. The annular space between the CPL liner and the existing walls allows concrete with smaller aggregate to form the new pour. Extrusion welding of all liner joints and seams provides a continuous leak-proof lining system, and electronic leak detection sensors underneath the lining allow continual monitoring.
For more information about Concrete Protective Liners or any of our other products and services, please call us toll-free at 1.888.675.2783.